The need for efficient payroll software for businesses of all sizes is becoming increasingly paramount, as the complexities involved in payroll management require the best-in-quality software.
Juggling spreadsheets, calculating taxes, and managing payslips manually? This method of payroll management shouldn't even be considered in today's world due to obvious reasons.
Thankfully, the advancement of technology has paved the way for efficient and accurate payroll software solutions, and in Nigeria, there are several options available, but when it comes to finding the best payroll software, Earnipay stands out as the most reliable and trusted.
Earnipay has the best Payroll software in Nigeria because of its all-in-one perks that range from automation, flexibility, security, and a handful of other benefits.
Most importantly, these perks stamp our authority amongst other payroll software in Nigeria. Going forward, this article will explore the key reasons why Earnipay is considered the best payroll software in Nigeria and how it can benefit your business.
The Unique Advantages Of Earnipay: The Best Payroll Software in Nigeria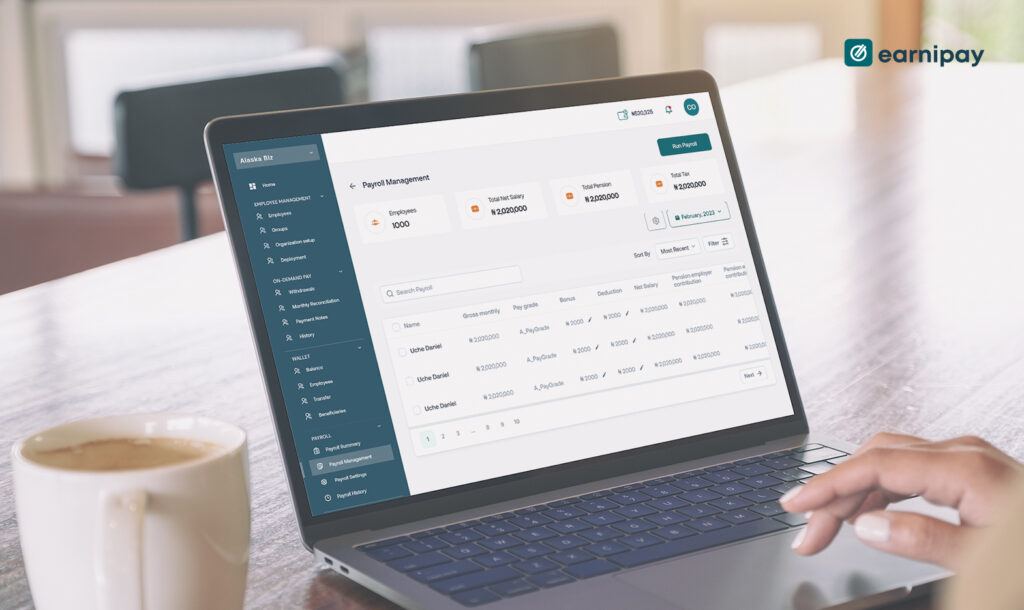 When it comes to managing payroll in Nigeria, businesses need a software solution that meets their requirements and offers unique advantages as Earnipay does. Let's delve into Earnipay's payroll software's advantages.
Customizable & Flexible
We understand that every business has its unique payroll requirements, and that's why our software offers a high level of customization and flexibility, allowing you to tailor the system to your specific needs. Whether you have multiple pay structures, pay schedules, or different employee categories, Earnipay's payroll software can adapt to accommodate your payroll complexities.
By having a payroll software that aligns perfectly with your business requirements, you can streamline operations and ensure accuracy every time.
Easy-To-Use Interface
Another standout feature of Earnipay's payroll software is the flex of a straightforward and user-friendly interface. As Leonardo da Vinci opined, "Simplicity is the ultimate sophistication." 
Our interface is designed with simplicity in mind, plus the availability of well-organized menus allows you to access essential features and perform payroll tasks efficiently.
Backdoor To On-demand Pay and Financing
Another benefit peculiar to our payroll software is the free ticket to an on-demand pay solution. HR managers who are beneficiaries of Earnipay's payroll software have the golden option of offering on-demand pay to their employees at no extra cost. On-demand pay is a leading employee benefit in Nigeria.
Similarly, opting for our Payroll solution gives you access to credit/ financing options to advance your business operations.
Comprehensive Payroll Management
Earnipay provides a comprehensive suite of features for managing payroll effectively. From automating salary calculations to generating pay slips and tax reports — our payroll software covers all aspects of payroll management. Its robust database securely stores employee data, making it easy to access and update whenever necessary.
Enhanced Data Security
In addition, data security is a top priority for any business handling sensitive employee information. This is why Earnipay prioritizes data protection and employs industry-standard security measures to safeguard your payroll data.
With advanced encryption techniques and secure server infrastructure, you can trust that your payroll information remains confidential and protected from unauthorized access.
How To Get Started
To get started on the best payroll software in Nigeria, follow these steps;
Click 'sign up' on the Earnipay website. 
Enter your contact and business information to create an account.
Set up your payroll run. This includes uploading your employee details, selecting your payroll frequency, setting up automatic payments, etc.
Overview
With its accuracy, user-friendly interface, customization options, data security, and comprehensive reporting, our payroll software offers a holistic solution that empowers businesses to streamline their payroll processes effectively.
In conclusion, by adopting this solution, you can save time, minimize errors, ensure compliance, and focus on their core operations — ultimately contributing to your overall success!