High-interest payday loans often provide a temporary financial lifeline for many individuals, particularly salaried workers. However, the considerable costs associated with these loans, coupled with the risk of lasting financial issues, make them less than ideal.
At Earnipay, we envisioned an alternative that would allow employees like yourself to access their hard-earned wages before the end of the month. Our aim was to create a solution that could help you sidestep the pitfalls of high-interest payday loans, offering a more sustainable and cost-effective option.
Introducing our on-demand pay solution, a finance solution that allows you as a worker to access portions of your earned wages in advance. It provides you with the financial flexibility you need without the expensive interest rates associated with payday loans.
And if you feel this solution can help you ease your financial burdens, stick around. Why? Because right here, you will learn what on-demand pay is, how it works, and how you can use it to avoid high-interest payday loans.
What is On-demand Pay?
On-demand pay is an employee-oriented finance solution that aims to help employees reduce work distractions, boost financial wellness and ultimately avoid high-interest payday loans. How? On-demand pay solution is a financial service that allows you to access your earned wages before your pay period ends.
With us, you get to access 50% of your earned salary if you have worked at least five days into the month. Therefore, you can get half of your accumulated salary for the number of days you have worked through the month.
Extensively, this solution helps you achieve financial stability by providing you with your earned salary right before payday. And we believe that you get to boost your financial stability when you don't take loans, especially ones with high interest. Ultimately, our on-demand pay solution improves your work productivity and increases your all-around financial wellness by avoiding high-interest payday loans. 
Benefits of Using On-demand Pay To Avoid High-interest Payday Loan
Lesser cost: When you use our on-demand pay instead of taking payday loans, you only pay a minimal charge that is accustomed to the amount you are withdrawing without any extra cost. Below is the list of our affordable charges for using our on-demand pay solution.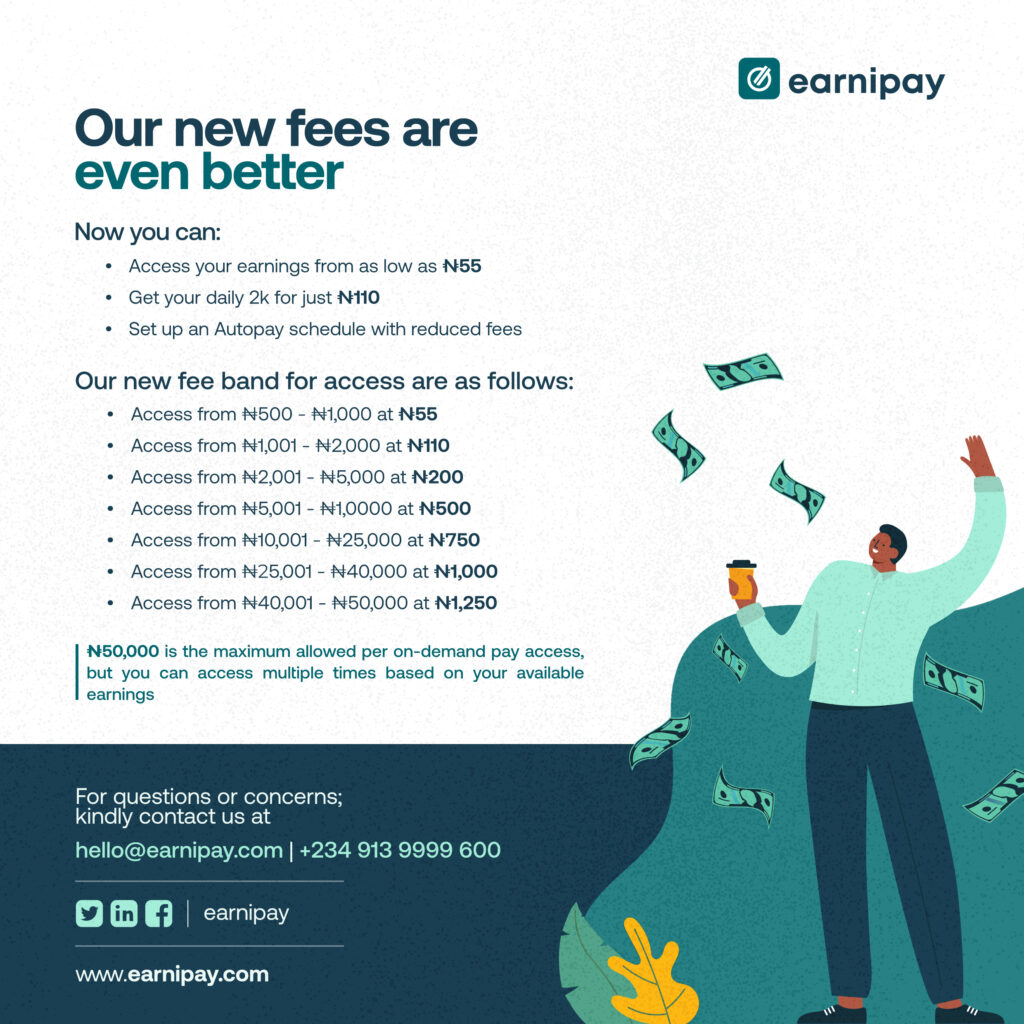 With this, you would agree that you are almost paying nothing to access your earned salary with us.
Avoid loan interests: After these highlighted charges for all possible withdrawals with us, you don't have to pay any other fee for using our on-demand pay solution. We do not charge any other interest on our platform like payday loans do. This way, you get to avoid anything that looks unnecessary and high interest for getting financial advances before your payday.
Strengthen your cyber security: Payday loans usually request your bank verification number (BVN) before approving your loan application. This directly opens you to possible security attacks if you fall prey to unreliable loan platforms, as they have access to your confidential personal information. But with on-demand pay, you don't just avoid high-interest loans, you also avoid this kind of risk as you get your bills sorted before payday.
Avoid overdraft costs: When you don't meet up to your payday loan repayment dates, you get charged another fee apart from the loan interest for late payments. This is another financial stress you get to avoid by using our on-demand pay solution instead of taking payday loans. So, why not take off that burden from your neck today?
How To Use On-demand Pay To Avoid High-Interest Payday Loans
To start using our on-demand pay solution to avoid high-interest payday loans, follow the simple steps, and you are good to go.
Share this link with your employer.
Show them the benefits of using on-demand pay in this article.
Recommend that they adopt this system for their payroll activities.
After your employer is registered with us, then they will invite you to join Earnipay through your email
Onboard onto the Earnipay mobile app on ios and Android.
And boom, you can access our on-demand pay platform for your needs.
Wrapping up
Guess what? Our on-demand pay solution is not the only way we are making life easier for employees like you. At Earnipay, we have other financial and people operational solutions that can help you, and employers boost work performance and results. 
When you don't worry about the financial burden, loan interests, and emergency bills, you get more out of yourself, for yourself, and your employer. Visit our website to see more solutions we have for you.