Welcome to Earnipay, where we revolutionize the way and time you pay your employees! We're excited to share with you the nuances of how we make money and how our services benefit both employers and employees.
In this deep dive, we will explore the world of On-demand Pay companies and give you an insider's look into how our innovative solution is changing the game.
What is On-Demand Pay?
First, let's clear the air on what On-demand Pay is all about. On-demand Pay is not a loan, and we are not a common loan app. Our solution allows employees to access a certain amount of their earned salaries before their normal paydays. We understand that waiting till the end of the month to sort bills can lead to unending debt cycles and susceptibility to loan sharks, which is why we provide ease and convenience to employees in the workplace.
With Earnipay's On-demand Pay solution, employees can live better, increase work productivity, and manage their finances more conveniently. We don't require your bank verification number (BVN) to pay you, making it easy for employers to enroll employees in our On-demand Pay solution to get started. We also take financial education seriously and provide our users with helpful tips and tools to manage their finances effectively.
Unlike loan apps, On-demand Pay companies like Earnipay don't take interest or require collateral for your salary. With our services, you can say goodbye to distractions at work and hello to improved financial well-being.
How Does Earnipay Make Money?
We offer affordable flat withdrawal fees to ensure a mutually beneficial relationship between employers and employees. As an On-demand Pay company, our revenue comes solely from the fees we charge for using our services. These fees are transparent and clearly defined based on the amount you withdraw from your earned salary.
At Earnipay, we pride ourselves on being a reliable and trustworthy On-demand Pay company, with no hidden charges or fraudulent practices. We even have a published list of our fees, so you can become more familiar with our product and fees.
If you're wondering how much we make from your salary, rest assured that our fees are reasonable and competitive. You can find a breakdown of our fees for different withdrawal amounts below.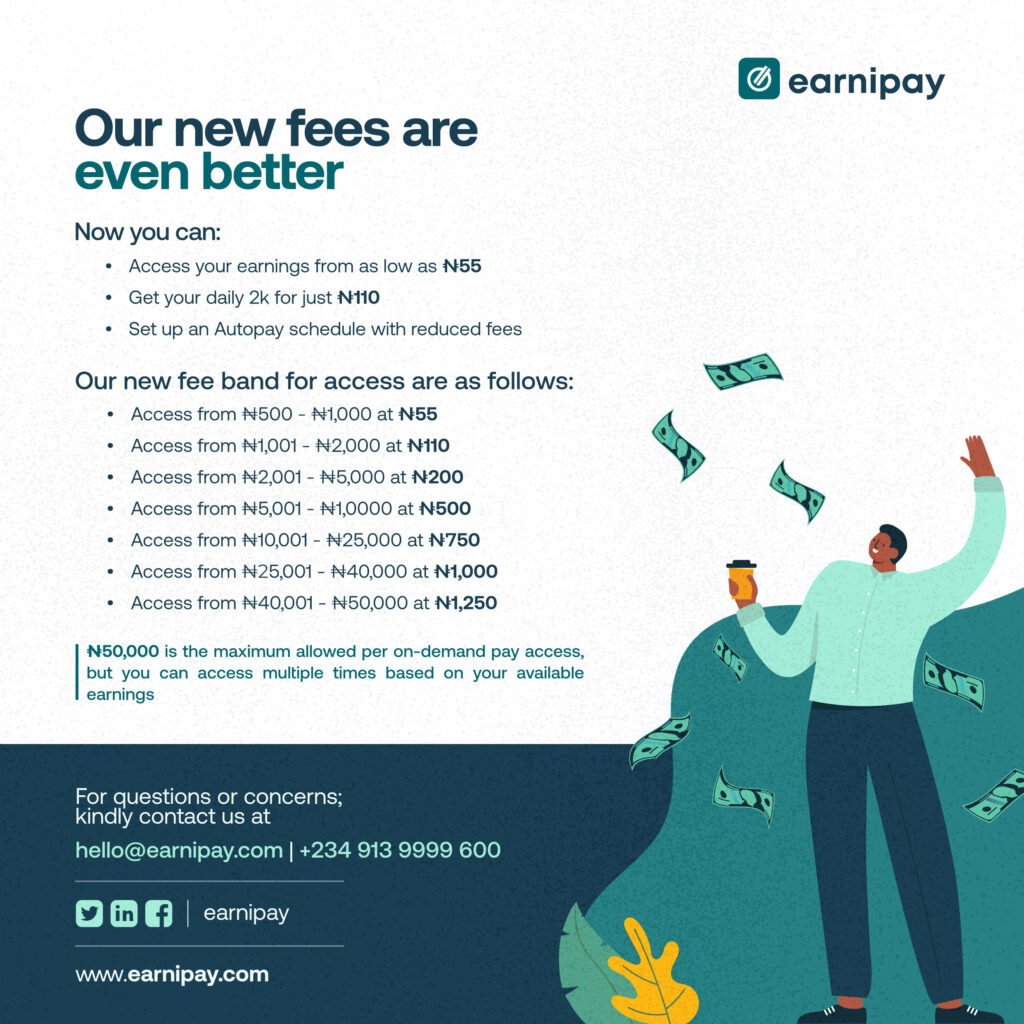 NB: There are no interest rates or hidden charges, just the stated fees.
However, there is a limit to the withdrawable amount which is #50,000. So, if you are eligible to get more than #50,000 out of your earned salary, you would need to make more than one withdrawal.
For example, if you plan to withdraw #75,000, you would be required to withdraw twice. This way, we can generate more income to support the management and maintenance of our finance solutions for you.
Wrapping Up
Earnipay charges flat fees when you withdraw from your available and withdrawable earned salary. This makes our platform an ideal choice for employees looking to increase their productivity by reducing financial stress.
With Earnipay, you can focus your energy on creating profitable results for your employer and your career. Our On-demand Pay service enables you to live better financially, allowing you to access your earnings when you need them most.
We encourage you to get started today by sharing this link with your employer.