If you are based in Nigeria, you need not be told that Inflation has become a buzzword for a couple of years and will not stop flying around anytime soon giving employers a reason to consider on demand pay. This is a result of the consistent increase in the price of goods and services and its impact on employees resulting in financial stress.
Financial stress has become a big concern for many employees across the globe. When employees are worried about their finances, it could lead to low-profit turnover in a company which is associated with a decrease in employee productivity.
As an employer, one of the possible ways to ensure that your employees are not distracted in the workplace is by introducing and implementing a payment method called on-demand pay. It shows that you are concerned about your employees' financial wellness.
As you read further, you will understand what on-demand pay is and why you need on-demand pay for your business.
What is On Demand Pay?
On-demand pay, also known as earned wage access (EWA), allows employees to access their earned wages before the next scheduled payday. This payment method enables you to receive your wages based on the days worked.
Instead of waiting for the bi-weekly or monthly pay cycle, you could request to receive a deposit of wages earned based on the number of days you worked. Amazing, right?
You probably may be thinking " Are there on-demand pay service providers in Nigeria?" Yes, there are, and Earnipay is one of the best on-demand service providers in Nigeria.
At Earnipay, we offer technology-driven solutions that allow employees to access their earned wages before their next scheduled payday. With our product, you can request and receive payment for the days you have already worked, helping to improve financial stability and reduce the need for high-interest loans or other forms of credit.
How Does On-Demand Pay Benefit Your Business?
Our on-demand payroll software benefits employers and employees which makes it a win-win for everyone. Our on-demand pay product benefits your business in the following ways:
It helps to improve your employee productivity
While employees work and wait to get paid monthly, their financial well-being is under pressure. With Earnipay, you can boost your employee's productivity and show you care about empowering your people with flexible salary access and financial education.
Offer more by doing less
As the world work model changes, offering employees on-demand pay allows your business to reduce the financial pressure from funding salary advance requests.
Responsible access controlled by you
You determine the percentage of earned income available to your employees and get an all-in-one dashboard that offers you complete control.
A competitive advantage that attracts great talents to your business
According to a recent Gallup poll, 64% of workers stated that an increase in pay or benefits is more essential to them than accepting a new job offer. On-demand pay gives you an edge over your competitors. and attracts fantastic talents to your business while boosting the morale of your existing employees.
What Are The Benefits of Using On-demand Pay As An Employee?
As aforementioned, Earnipay's on-demand pay is a win-win for employers and employees. The benefits of using on-demand pay for employees include:
Financial safety net to cover expenses and urgent payments.
Avoid unnecessary borrowing and being a target for predatory payday lenders.
Access earned salary on the go via web app or mobile app (Playstore or App Store)
How Can I Offer On-demand Pay To My Employees?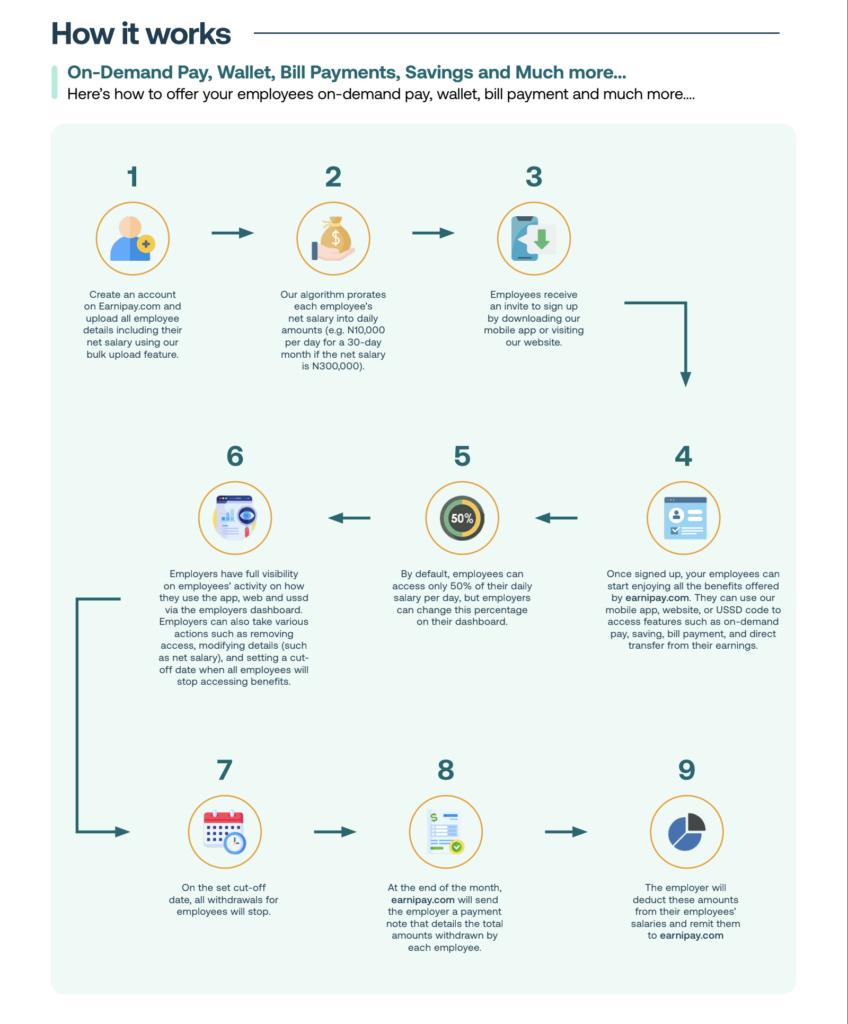 Here is a step-by-step guide on how to offer on-demand pay to your employees:
1. Create an account on earnipay.com and upload all employee details including salary using our bulk upload feature.
2. Our algorithm prorates each employee's net salary on daily amounts (e.g., N10,000 per day for a 30-day month if the net salary is N300,000).
3. Invite employees to sign up by downloading our mobile app or visiting our website.
4. Once signed up, your employees can start enjoying all the benefits offered by Earnipay. They can use our mobile app or website to access features such as on-demand pay, savings, bill payment, and direct transfer from their earnings.
5. By default, employees can access only 50% of their daily salary, but employers can change this percentage on their dashboard.
6. Employers can take various actions, including stopping withdrawals, removing access, modifying details (such as net salary), and setting a cut-off date (when all employees will stop accessing benefits for the month).
7. At the end of the month, Earnipay will send the employer a payment note that details the total amounts withdrawn by the employees.
9. The employer will deduct these amounts from their employees' salaries and remit them to Earnipay.
Would you like to offer On-Demand Pay to your employees? Click here or send an email to sales@earnipay.com to get started.